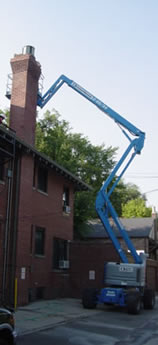 We take pride in our jobs and always stand behind the quality of our work.

Masonry Repair
- Tuckpointing - Brick & Stone, Color Match
- Historical Restoration
- Chimney Repairs
- Brick & Block Replacement
- Crack Repairs
- Stucco
- Emergency Repair Services

New Masonry Construction
- Brick work - walls and additions, arches, fireplaces, planter boxes, retaining walls.
- Block Work - walls
- Flagstone - patios, walkways, etc.
- Pavers - patios, walkways, etc.

Concrete
- Patios
- Walkways
- Driveways

Brick Masonry
Brick masonry is the preferred choice for durable, yet beautiful homes.

Block Masonry
Block masonry is a cost effective building solution used in residential and commercial construction.

Stone Masonry
Stone masonry has been around for thousands of years because of it's beauty and extreme durability.

Paver Masonry
The elegant style of pavers adds luxury to any home. Pavers are designed to undulate with movement and not crack.

Concrete
Concrete lends itself to a wide variety of design options that can make a dramatic difference in home landscaping and enhance property value.